DALI turn 0-10V LED converter dali led dimmer 110v 220v AC85V-255V
Basic Info
Model No.: LN-DALICONVERTOR-0-10V
Product Description
DALI turn 0-10V LED converter dali Led Dimmer 110v 220v AC85V-255V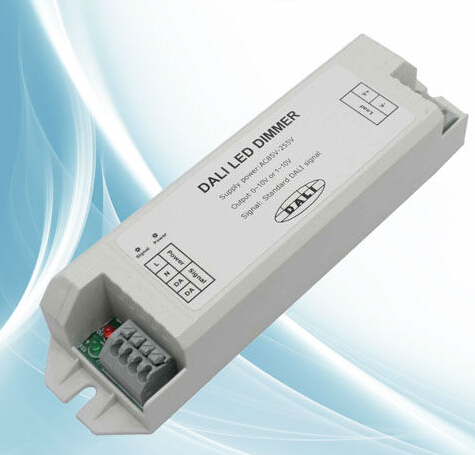 Summarization
    DALI (Digital Addressable Lighting Interface) is an international standard, popular lighting control protocol BUS, With digital addressing dimming, stable, various dimming ways, easy to install, compatible with many big factories such characteristic. 
    This product adopt to standard DALI dimming signal transform 0/1-10V dimming signal.Adopt protocol 
standard is IEC62386. Compared with traditional led dimming way, have a wide range of dimming, various 
dimming way, high precision dimming, can inquire the state of lamps(such as current brightness, power 
intensity, the minimum support brightness, address, etc.), digital control such characteristic.
Technical parameters
  Supply voltage: AC85V-255V
  Load output: 1 channel 0V-10V or 1V-10V signal output
  Dimming signal: DALI (IEC62386)
  Signal port current: <2mA
  Signal segregate voltage: 4KV
  Dimmer range: 0.1%-100%
  Working temperature: -20-60 °C
  Gross weight: 99g
  Net weight: 70g
  External dimension: L149mmxW40mmxH28mm
  Packing size: L150mmxW55mmxH50mm
  Connect way: spring type from screw the wiring way, terminal blocks diameter 2.6 mm
Function feature:
Can with a whole and grouping dimming, addressing dimming. 
Can through the default scene to dimming.
Can flexible configuration dimming parameters. 
Can inquire dimming parameter of dimmer.
Parameter memory function.
Have international standard, can be compatible with different factory manufacture DALI equipment.
Signal line regardless of pole, do not need routing alone, easy to install.
Product Categories : LED Controller > Led Dimmer