Perfect precise dimming DALI Constant Current Dimmer DC12-48V 350ma
Basic Info
Model No.: LN-DALIDIMMER-1CH-350mA
Product Description
Perfect precise dimming DALI Constant Current Dimmer DC12-48V 350ma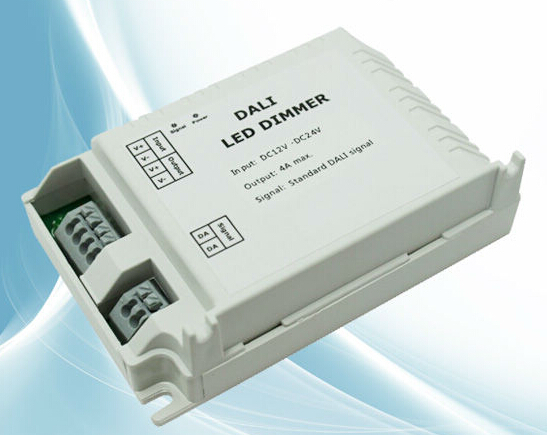 Summarization
LED DALI controller, DALI (Digital Addressable Lighting Interface) is an international standard , popular lighting control protocol , which adopt Manchester codes of digital transmission , with a
whole grouping dimming, dimming addressing inquiries, and other powerful state lighting
dimming function. Compared with the 0-10v analogue dimming , it's more precise dimming ,
addressable , stable ,focus control ,easy installation and so on .
This product adopt a standard DALI dimming signal to digital LED dimming using standard IEC60929. LED dimming with the traditional way of comparison , with adjustable light a wide
range of diverse dimming, dimming of high precision, check the current status LED(such as the
current brightness, power intensity, the minimum support brightness, address, etc.), easy
distributed control and so on. 
Technical parameters
     Working temperature : -20~60°C
     Supply voltage: DC12V/24V
     Dimming signal : According to DALI standaed V0(IEC60929) signal
     Output : 1 channel (the same voltage and supply voltage)
     Dimming range : 0.1%-100%
     External dimension: L103.64ΧW67.9ΧH29.7 mm.
     Packing size : L145Χ W95 Χ H50 mm
     Gross weight : 95g
     Net weight : 70g
     Connection mode : Spring-free screw-type wring , terminal block 2.6mm diameter
     Output current : <4A
     Output power : 12V:<48W , 24V:<96W
     IP Rating : IP20
Product Categories : LED Controller > Led Dimmer